The falafel and falafel is one of the most popular dishes in many Arab countries, although its origin is from the Indian subcontinent. It is a dish based on chickpea or fava croquettes , which is normally served with pita bread and a vegan yogurt sauce (in this case) or tahine. The falafel is one of the popular vegan recipes for centuries.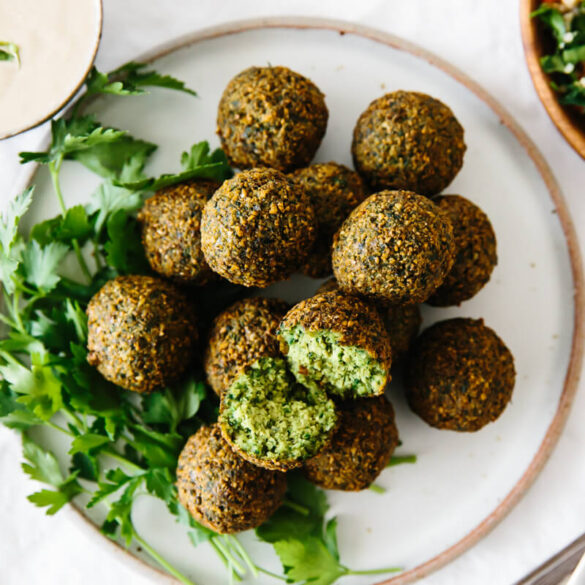 Ingredients
400 grams of chickpeas
1/2 onion
3 cloves of garlic
1 generous branch of fresh parsley
1 sprig of fresh coriander (optional)
1 teaspoon of yeast
Salt and pepper
Olive oil
1 teaspoon of cumin (optional)
Instructions
How could it be otherwise, we soak the chickpeas for a whole night. The next day we remove the excess water and beat them carefully. Chop the garlic, parsley and very finite coriander. We mix everything with the teaspoon of yeast and add it to the chickpeas. Add salt and pepper and add the cumin (optional) and mix again. We let the falafel dough rest for at least half an hour, preferably covered. After at least half an hour we can form the balls with the dough obtained to achieve the desired shape of these rich chickpea croquettes , adding a little chickpea flour if it does not have enough consistency. We put a frying pan on the fire, with enough olive oil to cover the falafel balls . Once the oil is very hot, we add the balls, browning them well. We drain them once they are golden brown and let them rest on a plate with absorbent paper, to eliminate the excess oil.
Notes
he falafel great combined with tabouleh vegetables and veganaise . You can also make sandwiches with pita bread or Arabic bread cakes, with a little lettuce, natural tomato, cucumber, avocado, chopped red onion, hummus , tahine sauce or vegan yogurt sauce. Falafel balls can also be baked instead of fried and in a flatter shape. Pita bread (better if it is whole wheat), or Arabic bread cakes, you can find it in any supermarket and of course in organic supermarkets.